May 19
Adventureland

We took some time off in May to have a mini vacation all alone. We decided to go to Adventureland in Des Moines since we are both familiar with Iowa roads and it is cheaper than Six Flags. We hit on a very nice day, not too hot or rainy, I rode the Raging River, the Log Ride, the Adventureland Train, the Chair Lift, Bumper Cars, the Ferris Wheel and the Underground. We also watched a magic show, watched a song and dance show, had a characature done and ate tons of food. We also took some photos which I hope to scan soon.

June 16-17
Renaissance Fair
My 3rd year, and I got sick. I was happy to have gone back, but we ended up going home early due to my nagging illnesses. Anyway, Todd and Fish went with and we watched the usual swordfights, shopped in the regualr shops, and had tons of fun. Fish bought a wooden toy crossbow that works great and a walking stick with a glossy ball capped on the top. We even got to watch them launch candy from a giant slingshot. Todd went back on Sunday and bought me a blanket, a mini knife, and a bunch of stuff for himself. I spent most of Sunday in mom's hot tub!


June 23-24
Airshow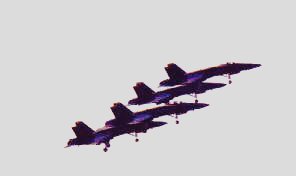 We watched the airshow from mom's again this year. Her pool party went off without a hitch and we got some great photos (to be scanned later). I had the chance to use my camera for the first time and I thought I got some pretty nice pics. Sunday we went back to the Church as we do every year and took more photos. This years Air Show was better than last as the planes flew much closer to us.


June 29
Northpark Mall Carnival
While heading to the doctor one afternoon, I noticed a carnival in the parking lot of Northpark Mall. We headed over there with Dad and Fish that Friday night to ride the different rides. We were disappointed that the promissed "armband night" was moved to Saturday, but we bought tickets and rode stuff anyway. The rides were weird, and everyone really liked them. I had never seen the Orbiter before, which is like a Scrambler that raises in the air and keeps spinning. I also had never seen the Cliff Hanger, which looks like a hangglider that you lay down on and it goes up and down.


June 30-31
Riverfest
Riverfest was not a wash this year, but it wasn't too grand either. I paid the $5 to get in on Friday and walk around. the carnival was sad, but atleast there was a carnival. The shops and food were average, nothing worth praising. The fireworks were spectacular, especially since I missed the Valley Days this year and it was the only real display I saw. We did watch the Boat Parade from down by Captains Table, but the boats and the parade was pretty lame.


June 30
Happy Birthday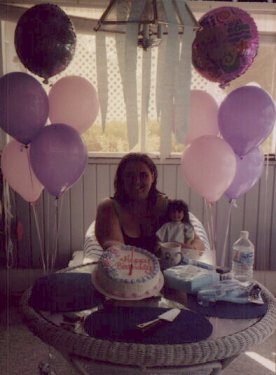 We had my Birthday party a day early this year. The party went very well, with a Furby pinata, an ice cream cake, and balloon pool diving for prizes. I got great presents including the movie Dogma, a cool Kane action figure, luggage, a collapsable lawn chair in a bag, and my Krissy doll and her clothes. Krissy is my American Girl Doll that was bought to not only cheer me up to also look all sick and in hospital garb to happily mock my numerous stops and all of the local emergency rooms. This is not to say that I do not love her, as I dress her in outfits according to how I feel that day and what her and I will be doing (OK, I admit I have problems). After the party, we went down to the River and watched the Boat Parade.


July 3
Fireworks at Amy's
As I do every year, I spent Independence Day celebrations out at my sisters house lighting fireworks. This year dad and I spent a little less than $200 on fireworks. Although every year we buy from the same person, this years assortment was pretty lame. Many of the fireworks were duds and the big anticipated Titanic was supposed to last 7 minutes and died after about 3. We had fun anyway though, making home made ice cream and cooking out.


September 1
Hog Days
Todd and I returned to the Hog Days celebration on Kewanee. I spent most of my time in the Flea Market, but I did take time to go to the carnival and food area. We watched some of the parade, but since it is the longest parade on the planet, we didn't watch the entire thing.


September 14-27
California
My cousin Matt was married in California and my entire family flew out there to see him. While there, we also went to the Sequoia Park, Disney/California Adventure, San Jose, and San Francisco. Once I have time to scan photos, I will make a separate page online for the trip!